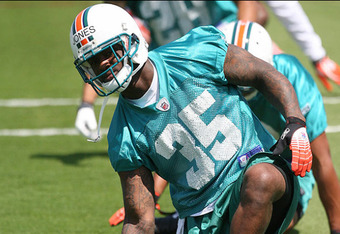 Garner out 8 weeks, John Jerry has a knee issue, and Reshad Jones limps to locker room after practice
If the continuing struggles of the interior offensive line weren't bad enough, perhaps the two guards with the most potential both had questionable status' this morning. One turned out to be serious, while the other appeared to just be a scare, at least for now.
Nate Garner, who began to work with the first-team last week, re-broke the foot he had surgery on this offseason, and reportedly had another procedure sometime in last few days. Initially, reports were saying Garner would sidelined for 4-6 weeks, but the news was slightly more sobering later one, when an NFL source confirmed he would be out for about 8 weeks. John Jerry on the other hand, is fresh off his encouraging performance Saturday night, but had a bit of a setback this morning, leaving practice early with some knee soreness.
When Sparano said he was concerned about Jerry's knee in his daily press conference, some media members started to speculate this could be on the serious side too. Thankfully, though, Jerry wasn't held out of anything in the afternoon session, not even team drills. He may be off the hook for now, but who knows if swelling or soreness will return.

A day after Sparano mentioned that the free safety competition was still ongoing, Chris Clemons' challenger, Reshad Jones, appeared to injury his ankle. He reportedly limped badly to the locker room after practice and spent time with the trainers getting it looked at. There is no word yet on the severity of it, but I'm sure we will get the whole scoop in Sparano's press conference tomorrow.

Competition at punter?
It appears Brandon Fields has some serious competition for starting punter. Brandon Marshall dropped his first pass of the day, nothing new there, caught his second for a touchdown but apparently pushed off on Sean Smith in the process, and then punted another ball across the field.
At least he's frustrated with himself and not causing a disturbance over a contract issue, like his previous tenure at punter with the Broncos. In all seriousness, though, Marshall bounced back nicely in the afternoon session with a touchdown catch along the sideline against Nate Ness, a deep reception matched up against Sean Smith, and drew a pass interference call on Vontae Davis. Speaking of Davis, the second-year corner got in on the heated competition himself by punting a ball after breaking up a pass intended for Marshall. No word on how Marshall took that, but personally I find it pretty funny.

Ryan Grice-Mullen not dead yet?
By dead I mean his roster chances, of course. Those received a jolt of life today, as Grice-Mullen got some reps with the first-team at slot, and another rep as punt returner. Unfortunately for him, it appears as though the final receiver will either be Patrick Turner, Marlon Moore, or Roberto Wallace. That's why this looks like the coaches were just trying to get a feel for him as a potential practice squad prospect.

Interior O-line update
Aside from the injuries to Garner and Jerry, the starters at the guard spots and center were as follows: LG: Richie Incognito, C: Joe Berger, RG: John Jerry.  

Sources: Sun-Sentinel