Dolphins at Patriots: 5 Questions with the Enemy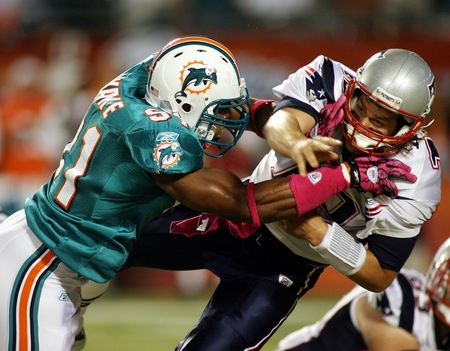 Looking back to when the schedules first came out before the season started, many looked to this game as one that would likely have huge playoff implacations if not decide the divison crown all together. Instead we get the 13-2 New England Patriots who have already locked up home-field advantage throughout the playoffs and a Dolphins team that only has a .500 season to play for.

This is definitely not what the fans had in mind, but just becuase this game is considered meaningless in the grand scheme of things, the thought of the Dolphins dropping to 7-9 in back-to-back seasons despite the strides they have made on defense is just plain sickening. So let's preview for Sunday by welcoming in Ricky Keeler from Foxboro Blog, who offers his insights into how long Belichick will play his starters, gives his prediction for the game, and more. As always, check out his site to see the questions I answered regarding the Dolphins.

Phins Phocus: How long do you anticipate Bill Belichick will play his starters?

Foxboro Blog: This is a tough question for me to answer because I am not Bill Belichick. While watching this game on Sunday, I just hope no one gets hurt that is a key cog in this Patriots' machine. Last year, New England was rolling into the playoffs until Wes Welker hurt his ACL in the Texans' game and New England was devastated when facing the Ravens the following game. The defensive line players who are injured as well as Jermaine Cunningham and the big offensive lineman Dan Connolly I expect not to play at all. There is a huge flu epidemic in the Patriot locker room so I expect those guys not to play as well.

However, I expect Brady to play at least a half because you never want to be rusty after not playing for two weeks especially with the AFC as stacked as it is. Brady has played longer in games this year when he really should not be in the game, but that's Brady's competitive nature. I want to see Brian Hoyer in the second half regardless because the Dolphins' pass rush has been so good that one hit from Cameron Wake could ruin a team's Super Bowl dreams.

Phins Phocus: If Tom Brady ends up getting extensive playing time, how exactly would you go about game planning to stop this Patriots' offense if you were the Dolphins' defensive coordinator?

Foxboro Blog: There is only one key to beating Tom Brady and that is consistent pressure on the quarterback. If I am Mike Nolan, I would rush the quarterback and Miami did a good job at that in Week 4 this season. The Dolphins kept Brady in check for a whole half until the special teams made a historic performance in the second half. Cameron Wake is the defensive POY at least in the conference. He will need to perform big time as I mentioned before. The defense as a whole averages 2.5 sacks a game, so if you can pressure Brady and get rid of the check down option to a Danny Woodhead and their running game, Miami can definitely hang around in the game.
Phins Phocus: Are you concerned at all about the Pats' 27th ranked defense heading into the playoffs? Do you see improvement down the stretch of the season as they have held opponents to single digits in three of their last four games?

Foxboro Blog: No, I am not concerned with the defense because people always bring up stats, but I have told every blogger I have interviewed with this year to look at this team with your eyes. They have great young playmakers on the defensive line, linebacker, and secondary spots. They held two good offenses in the Jets and Bears to under 10 points, which is impressive in itself. Also, they have had to make stops on the final drive against Green Bay, Baltimore, Indy, and San Diego and have been successful all four times. Devin McCourty at cornerback is the defensive rookie of the year in my opinion with six interceptions and he has shut down number one receivers all year. They are 13th in points allowed and 16th against the run, which is pretty decent in today's NFL.

Phins Phocus: How exactly do players like Danny Woodhead and Deion Branch turn into studs the second they become Patriots? Does Bill Belichick just know how to get the most out of his players or does Tom Brady just make everyone that much better?

Foxboro Blog: With regards to both Belichick and Brady, I think they have an equal part at making these players better. I am a New Yorker myself and I kept watching Danny Woodhead in practices, preseason games, and on Hard Knocks wondering when he would get his opportunity. This kid is the real deal, which is why the Pats signed an extension with Woodhead through 2012. He has been an excellent option both in the running game and in the passing game in 3rd down situations. Deion Branch had previous knowledge of the Patriots' system as you know when he was MVP of the last Super Bowl championship. I knew coming into Week 6 when the Pats got Branch back that he would be a good addition to this team because of familiarity with Brady and Tom can take the rookie tight ends, Branch, and Brandon Tate and make them awesome options. But, Belichick has done one of his best coaching jobs with this young defense this year.

Phins Phocus: Who do you see winning Sunday and why? Final score?

Foxboro Blog: I think Brady and the Patriots' first teamers are playing a half-three quarters in this game. Yes, Miami is 6-1 on the road this season and has done a good job in those games, but they don't have a quarterback. Chad Henne has had an awful month of December with the exception of the game against the Raiders. Plus, sending a warm weather team to the January cold of New England isn't always the best option. Brandon Tate can have an impactful game as well as Julian Edelman who you can see a lot in this game in both halves. The Pats also held Ronnie Brown and Ricky Williams to under 100 yards rushing combined in Miami earlier in the year and that's what makes Tony Sparano's offense run smoothly. New England wins 14 games for the 4th time under Belichick.

Patriots 27 Dolphins 13