Dolphins to Sign Charles Grant
The Dolphins were expected to possibly sign one of their remaining unsigned draft picks today. Instead, they continued to load up on defensive end depth by agreeing to terms with former Saint Charles Grant. According to NFL.com, the deal is for two years and worth u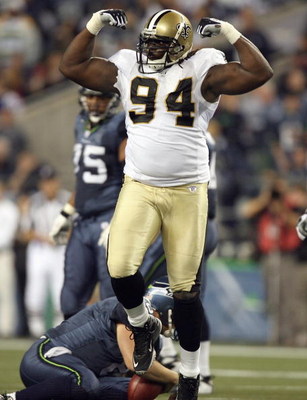 p to $4.5 million.
The 31-year old, eight year veteran has played in the Saints 4-3 system for all of his career, but has the measurables (6'3, 285) to stay put at defensive end in Miami's 3-4. He has started 106 games for the Saints, and has registered a solid 423 tackles and 47.0 sacks.
The Dolphins have now signed Marques Douglas, Montavious Stanely, and now Grant since Phillip Merling was ruled out for the year. These veterans being thrown into the mix with Kendall Langford, who is a virtual lock on one side, and Jared Odrick, who should sign in the coming days, will produce a heated competition once camp kicks off in less than 48 hours.
Regardless of what type of role Grant earns in camp, the Dolphins could be forced to do without his services for four games, though, but the four-game suspension he was handed by the league for testing positive for a banned diuretic is currently postponed due to legal proceedings.
Could defensive end be in better shape than before the Merling injury? Well, they will certainly be more experienced, but I guess we will have to wait and see if Douglas and Grant, in particular, have much left in the tank.
More to come tomorrow, as we finish up our training camp preview on the final day of the offseason, as the only remaining position just happens to be defensive end.