Dolphins at Bengals: On the Ground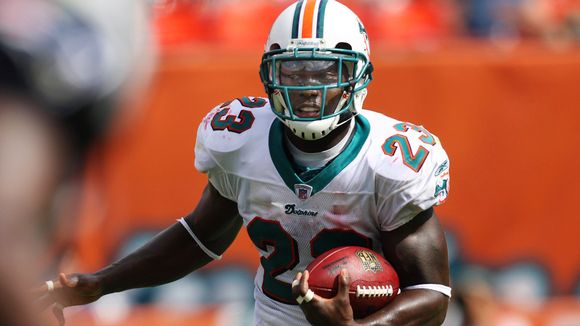 Dolphins running game: 107.0 rush ypg (16th)
Bengals running game: 100.2 rush ypg (19th)
Dolphins run defense: 100.8 rush ypg (12th)
Bengals run defense: 118.0 rush ypg (22nd)

Bengals leading rushers
C. Benson: 123 att. 476 yds. 3.9 ypc, 2 TD's
B. Scott: 18 att. 92 yds. 5.1 ypc

Dolphins leading rushers
Ronnie Brown: 76 att. 313 yds. 4.1 ypc, 1 TD
Ricky Williams: 67 att. 288 yds. 4.3 ypc
After watching the Heat's lackluster performance last night, maybe it's not time for the city to move on to basketball season just yet. Despite the blown opportunity last week and despite being in a stacked division and conference, the Dolphins have a golden opportunity in the next three weeks to stake a claim in the heated playoff race.

Like I mentioned in yesterday's post, it's all about how they respond emotionally after such a heart breaking loss to the Steelers. If they come out still hungover from last Sunday, the Bengals are a good enough team to expose them big time at home. I wouldn't be the least bit surprised if Cincinnati runs them off the field in a uninspired blowout. But then again, they could come out with a cheap on their shoulder after feeling slighted by the refs the week before.

This team is very young, with some new faces assuming critical leadership positions. We just don't know what to expect from them yet. But let's move on from the emotional part of the game and get back to X's and O's.

Bengals running game vs. Dolphins run defense
The run defense was phenomenal in that second half on Sunday. The Dolphins were getting to Mendenhall nearly the second Roethlisberger handed him the ball. Even more encouraging was how well Wake and Misi contained the edge, which appeared to be this defense's biggest weakness before this past Sunday.

If this front seven can dominate one of the best running game's in the business, there is an awful lot to be excited about defensively Dolphin fans. Many fans were probably so caught up in the controversial call, they really haven't given the front seven the credit they deserved for that performance. Of course, though, it can easily go under the radar when the secondary is surrendering big play after big play.
Nonetheless we should expect similar stoutness against the run this Sunday. The Bengals haven't been running the ball as well as they have the past couple seasons, and Cedric Benson is averaging a shade under four yards per carry. After what we saw this defense do against the Steelers, it's not acceptable to get gashed on the ground anymore.

We now know this front seven is capable of great things. Consistency is obviously the next step, though.

I think the biggest reason for improvement has been Channing Crowder's return. Say what you want about his mouth and play-making abilities, but the dude can fill run lanes. Also, despite Jared Odrick getting knocked out for the year, the Dolphins are starting to find the right mix for the front three.

Tony McDaniel has stepped in effectively at defensive end when the Dolphins move Randy Starks to nose tackle, and Paul Soliai has played like a starting caliber nose tackle when Starks lines up at end.
Edge: Dolphins

Dolphins running game vs. Bengals run defense
The Dolphins had to stray away from the approach they took against the Packers that yielded their best all-around offensive outing of the season. Dan Henning was able to strike up the right balance of the run and pass in that thrilling overtime victory in Lambeau. Against the Steelers, though, the Dolphins were forced to become one dimensional because you simply can't line up and run on that dominate Pittsburgh front seven. They moved the ball fairly effectively but faltered in the redzone in large part because of a lack of a running game.
Against the Bengals, though, there really is no excuse for not returning to that balanced approach. Of course, hopefully Dan Henning doesn't get too conservative either. Henne has been playing well and deserves his share of opportunities to move the football, but when this offense has been at it's best, they have been running the football successfully.

If Ronnie and Ricky can return to the form and consistently pick up a good four to five yards a pop on Sunday, things are going to be considerably more manageable for Henne and the passing game. The play-action pass will once again enter the equation, and this offense will have the potential to be near unstoppable if they can run the ball like they did last year with Henne playing as well as he has the last couple games.

That's still a pretty big "if" at the moment, though. And for this running game to get back on track the interior offensive line needs to get its act together in a hurry. That brings me to John Jerry. Forget about him? Yes, the promising rookie hasn't been on the field since Week 2, but if you can remember back that far, he was actually playing like the most consistent interior lineman the Dolphins had.

I'm not blaming the woes all on Jerry's replacement, but the drop off has been considerable since Pat McQuistan entered the lineup. Hopefully, that's about to change in a hurry, because according to some practice reports today Jerry was back working with the starters. The Dolphins may just be testing him out to see where he's at, and who knows how well he will even perform after missing so much time, but the ceiling is much higher for this running game with Jerry alongside Berger and Incognito.

Let's not forget that the Benglas are ranked in the bottom half of the league when it comes to stopping the run. Sounds like a great opportunity to get back to Dolphin football.
Edge: Dolphins