Dolphins vs. Patriots: Through the Air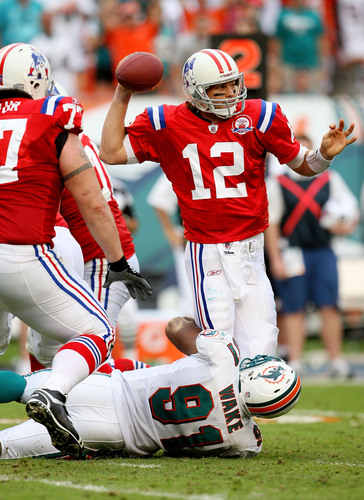 Dolphins offense: 207.3 pass ypg (18th)
Patriots offense: 247.3 pass ypg (10th)
Dolphins defense: 193.3 pass ypg (9th)
Patriots defense: 260.3 pass ypg (25th)

Many expect fireworks to take place in the passing game Monday night. As long as the Patriots have Tom Brady, they are going to throw the football, and throw it well. With weapons like Randy Moss and Wes Welker in his arsenal to go along with two promising rookie tight ends, the Pats are virtually uncoverable.

Not exactly the team you want to see after getting torched by Mark Sanchez, Dustin Keller, Braylon Edwards, and the Jets a week ago. But nonetheless, a great opportunity to bounce back and prove that the huge strides we saw in the first two games have some legitimacy.

The Dolphins' offense meanwhile, and in particular Chad Henne, need to establish a little consistency after throwing all over one of the best pass defenses in football last Sunday night. I said earlier in the week that they should try and be more balanced, and not commit exclusively to the run, like we saw against the Vikings, or the pass, like we saw last week. Still though, with the way New England's secondary is playing, it's going to be awfully tempting to get pass happy again.

Patriots passing attack vs. Dolphins secondary
Usually when you go into this game you scheme around stopping Randy Moss and the long ball and Wes Welker in the short to intermediate passing game. Now though, throw in the Pats' leading receiver, tight end Aaron Hernandez, into the equation, and it's even more difficult to prepare for this offense. And that's not even mentioning the other rookie right end, Rob Gronkowski, who has a couple touchdowns of his own through three games.

Considering that the Dolphins have been abused heavily by opposing tight ends so far, what should they try to take away first and foremost? I don't think you can really commit to anything, because that would just open things up for Brady's other weapons.

There's always one simple key to slowing down this offense, though- consistent pressure. That's something the Dolphins completely forgot how to do against the Jets, after getting to Trent Edwards and Brett Favre in consecutive weeks.

Cameron Wake was man-handled by Damien Woody for the most part, Koa Misi was a complete non-factor, and some of the exotic blitzes Mike Nolan drew up were way too slow getting to Sanchez. If the Dolphins are going to continue to bring pressure, it better get there quick against Brady.

If he can sit in a clean pocket, and have time to scan the field against man-to-man coverage, it's game over. He's going to hit Moss on some deep shots, Welker multiple times underneath, and pick Miami's defense apart with Hernandez and Gronkowski.

One thing that will make things considerably easier regardless of how much pressure the Dolphins can get on Brady, is if Vontae Davis, who better cover Moss all night, can lockdown Randy Moss on the outside. Last week we saw Jason Allen matched up with Braylon Edwards, because the Dolphins like to keep their corners on the same side of the field so they don't have to flip technique.

That may work against some teams, but against Randy Moss, you better have your best man in coverage at all times. Davis has looked like a shutdown corner so far this season, but until he does it against elite receivers, we can't make that call. He's picked off Brady two times in two games. Will he make it three for three on Monday night?
Edge: Patriots

Dolphins passing attack vs. Patriots secondary
We finally saw last week just how talented of a player the Dolphins have in Brandon Marshall and were reminded of just how good Chad Henne can be. And that was against the Jets, who had the best pass defense in football last season. Yes, Revis was hurt, but they shutout the Pats in the second-half two weeks ago without him.

With the struggling Patriot secondary coming to town, you would hope Dan Henning would continue opening up the playbook even if they jump out to an early lead. When the Dolphins led early against the Bills and Vikings, the offense went in a shell. They didn't take shots down-field, and almost exclusively went to the run in Minnesota.
They stayed balanced in Buffalo, but outside of that one deep shot to Marshall, the routes were all in the 5-8 yard range.
When you have a weapon like Marshall who is such a big, athletic target down-field, you would be crazy not to utilize that. Once you hit him for a couple big gains, the defense is only going to get back on their heels, and things are going to open up for Davone Bess, Brian Hartline, and Anthony Fasano.
The Dolphins shouldn't worry too much about pressure either. The Pats have only registered one sack this season, courtesy of inside linebacker Jerod Mayo. It will be interesting to see if that enables Dan Henning to do away with some of the max protection, two tight end sets that he likes to run, and run a few more three receiver formations with Davone Bess working in the slot.
However they approach this defense, there really isn't much of an excuse for Chad Henne not having another big day considering how poorly the Pats' secondary and pass rush is playing right now.
Edge: Dolphins