A Bill Parcells Tribute: Top 5 Personnel Moves
With news of Bill Parcells packing up and leaving the team facility yesterday, this football team is now officially, if it wasn't already, in the hands of Jeff Ireland. A man who hasn't exactly earned the trust of this franchise's fan base yet. The fact that he was molded by the hands of Parcells for three full offseasons, though, suggest the Dolphins are in very capable hands.

Besides, the foundation of this team is already in place. Sure, there are still holes. You would hard pressed to find another team in this league that doesn't have places where improvement needs to be made, but the pieces are in place for this football team to be successful, both now and in the future.
That's why this news doesn't bother me one bit. But before we look ahead to the next era of leadership, let's look back at what truly was a remarkable remodeling job.

I'm not going to go as far as to say it was all Parcells, as I think the Dolphins got some very lucky breaks, like Pennington becoming available a few weeks before the 2008 season for example. But there's no doubt that this team wouldn't have turned around so quickly and be in the position to do great things like they are today, without the guiding hand of the Big Tuna.

After hitting rock bottom in 2007 by becoming the laughing stock of the entire league in an embarrassing 1-15 season, Parcells instantly changed the culture the minute he walked in the door. The first step in turning around a once proud franchise.
The next step is obviously building the team from the ground up with sound personnel decisions. Parcells wasn't always a genius, mistakenly signing players like Ernest Wilford and Gibril Wilson and drafting guys like Phillip Merling, Pat White, and Patrick Turner who look the part of bust early on in their careers.
But the positives far outweigh the negatives, and any fan that criticizes the work Parcells has done needs to step back and look at what this team has accomplished and how far they have come in three short years. I know I'm not alone in extending a big thank you to Bill Parcells, who played a large role in restoring hope to a franchise in the lowest of lows.

Here's a list of my top five personnel moves made by Parcells in the last three years. I'm keeping this closed to players here, but the decision to hire Tony Sparano as head coach deserves some serious recognition as well. Also drafting Chad Henne in the second round of the 2008 draft obviously will go a long way in defining Parcells' tenure here in Miami, and although he's flashed plenty of potential, the jury is still very much out on if he will emerge as a franchise quarterback or not.

Top 5 personnel moves in Parcells era

5. March 5th 2010: Dolphins sign ILB Karlos Dansby
Even if the Dolphins overpaid Dansby by making him the highest paid non-rush linebacker in history, it was a necessary move and the Dolphins probably aren't 3-2 without his presence in the middle of the defense. He's proved to be a tackling machine and has the speed to stretch the field with the play-making ability that impacts the outcome of games.  


4. 2008 offseason: Dolphins upgrade defensive line by signing DE Randy Starks and drafting DE Kendall Langford
Okay, so I cheated a little bit on this one, but both played a huge role in helping the Dolphins transition to the 3-4 defense, and both are now Pro Bowl caliber players in the Dolphins' front seven. Both were pretty big steals too. Starks wasn't thought to be a marquee free agent and Langford lasted all the way until the third round. Starks moved over to nose tackle this offseason, but has been forced back to defensive end with Jared Odrick's injury. Langford, meanwhile, may be establishing himself as one of the better 3-4 ends in the game.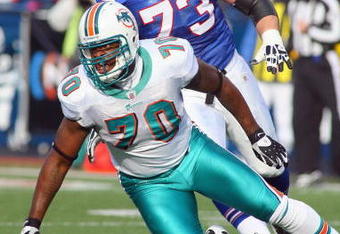 3. 2009 NFL Draft: Dolphins select CB Vontae Davis 25th overall
The rookie corner hit his fair share of bumps in the road last year, but, despite getting roasted by Greg Jennings this Sunday, is quickly establishing himself as an elite cover corner in only his second season. We need to see a little more consistency before we know if he's that good for sure, but all indications are pointing towards the Dolphins having something special here.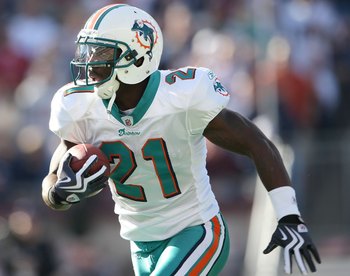 2. April 14th 2010: Dolphins trade two second-round picks for WR Brandon Marshall
There is no doubt this offense is now capable of great things with a playmaking receiver like Brandon Marshall causing defense all kinds of havoc. Chad Henne desperately needed a go-to threat like Marshall to emerge as a franchise quarterback. Now, it all comes back to how far Henne can take them, but with Marshall, the sky is the limit for this offense.




1. 2008 NFL Draft: Dolphins select Jake Long 1st overall
Just like Bill Parcells, Jake Long symbolizes the Dolphins turnaround. He was the first building block that started the transformation. Some still argue that they should have went with Matt Ryan with that 1st pick, and judging by how well he's played in Atlanta that may have been the right move. I tend to think the circumstances in Miami would have buried any rookie quarterback. There was no offensive line and the receivers were sub par to be generous. That's why Jake Long was the safe pick; the right pick. Now, the Dolphins should have their O-line anchor for well into the foreseeable future, as Long has unanimously established himself as one of the top two or three tackles in the game.