Miami Dolphins select Daniel Thomas, RB, Kansas St. 62nd overall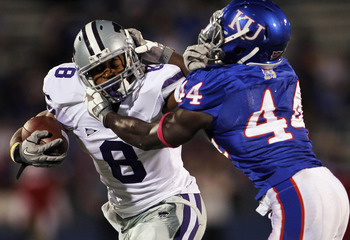 I thought it was a sure thing when the words trade flashed on the screen. With Ryan Mallett continuing to descend, and with a few quarterback hungry teams waiting in the top half of the third round, it appeared the Dolphins were trading up with the Washington Redskins to snag arguably a top ten talent at the game's most important position near the end of round two.

Instead, the front office chose to give up their 3rd (79th), 5th (146th) and 217th overall selection in the 7th for Kansas St. running back Daniel Thomas. Thomas is a back that could have been available with the 79th pick, so I'm a little bit surprised that Ireland felt trading up was necessary.

Many felt like the Dolphins would look to draft a scat back, with speed supposedly being a top priority this offseason, but Thomas fits the power, workhorse mold. They will likely be bringing in another back this offseason, though, whether it be later on this weekend with one of their remaining picks or in free agency, so expect a speedy back to be acquired eventually.

With Mike Pouncey and now Thomas on board, the Dolphins are rebuilding their running game and getting back to their identity. I know many fans wanted Mallett here, as did I, but with Mike Nolan's defense possibly bordering elite status in 2011, maybe a great running game is the only thing preventing the Dolphins from sneaking into the playoffs.