Dolphins re-sign Tony McDaniel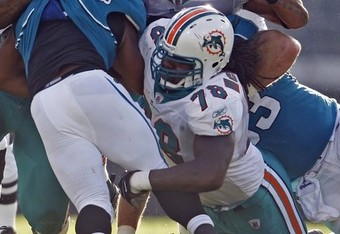 In a surprise move, the Dolphins and defensive end Tony McDaniel have agreed to a two-year deal worth $6 million to keep him in Miami. It's not that McDaniel isn't the type of player you want to keep around. He is and then some.

McDaniel had a stellar breakout campaign in 2010, highlighted by 36 tackles, 2.5 sacks, and ranking in as the 13th most productive 3-4 end in the league by Pro Football Focus. It's just that the Dolphins are stacked at defensive end, and I'm not even sure stacked does them justice.

Randy Starks and Kendall Langford make up one of the top 3-4 end duos in the league and Jared Odrick and Phillip Merling, who could potentially be starters elsewhere, give the Dolphins outstanding depth. Either the Dolphins really value that depth and want to bolster a frightening rotation or they plan to deal one of their defensive ends in the deal for Kyle Orton that is reportedly expected to go down in the next couple of hours.

It should be interesting to see how it plays out, but the Dolphins prevented a very solid defensive end from lining up on an opposing D-line today. He's too talented not to have a significant role on Mike Nolan's defense.

-Dolphins also come to terms with former Cleveland Brown linebacker Jason Trusnik. Reports have it as a two-year deal, but the financial particulars are not yet known. Trusnik will provide much needed depth for the Dolphins, but perhaps more importantly will bolster what was a weak special-teams in 2010.