Pre-Free Agency Depth Chart and Roster Analysis: Offense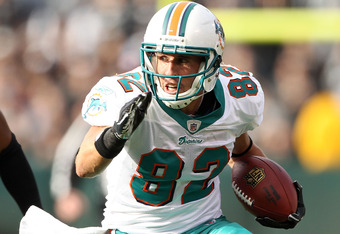 As we continue to wait for the lockout to be lifted so free agency can open and trades be permissible, let's take a look at the current state of the Dolphins' roster.
As opposed to the defensive side of the ball, which is virtually game day ready personnel wise outside of a few depth concerns (particularly at OLB), the offense is far from settled.

The outlook offensively is better now than it was before the draft, but the Dolphins are still a veteran quarterback, a starting caliber running back, and an athletic, pulling guard away from filling all their needs before training camp.

Of those three remaining voids, quarterback and running back will undoubtedly be addressed via trade or in free agency. It's still uncertain if the front office feels comfortable enough about the interior offensive line to move forward.

Personally, I think they should add a proven veteran guard if they intend on starting Mike Pouncey off at center because there will be question marks at both guard spots without one. Richie Incognito hasn't given us a reason to believe he'll be anything more than average at guard, John Jerry struggled as a rookie, and Nate Garner may only be valuable as a versatile fill-in.

We will have to wait for free agency to see how confident the front office is in their current interior O-line. For now, though, let's see what the Dolphins' offense would look like if they had to take the field today.

Quarterback: (1) Chad Henne, (2) Tyler Thigpen, (3) Tom Brandstater
The Dolphins tendered Tyler Thigpen this offseason, but it likely won't matter once the lockout is lifted because there isn't expected to be any restricted free agents. Thigpen would surely be welcomed back, as an athletic backup who could challenge a struggling Chad Henne for the starting job. But Thigpen will likely sign elsewhere, because the quarterback competition figures to be a two-man race once the Dolphins add a veteran. And like I've said before, it's not a matter of if they will add a veteran, it's a matter of who that veteran will be.

We won't speculate on who that veteran will be right now, but just rest assured that the quarterback depth chart will include a new name by the time camp opens. The Dolphins won't start the season with only two QB's. Chad Henne needs to have competition and Tom Brandstater may be nothing more than practice squad quality.

Running Back: (1) Daniel Thomas, (2) Lex Hilliard, (3) Kory Sheets
The Dolphins must add another starting caliber running back in free agency. In today's NFL, you can't get by with a primary-back system anymore. Just about every offense is running a two-back system. And neither Lex Hilliard nor Kory Sheets figure to have what it takes to share the workload with Daniel Thomas.

If one were to step up into that role, though, it would likely be Kory Sheets. I'm not dismissing Lex Hilliard or even predicting Sheets would beat him out in camp for a roster spot, but if one were to co-start with Thomas, it would be Sheets because his speed would make him a nice change-of-pace complement.
Fullback: (1)Lousaka Polite, (2) Charles Clay
I hate to put Charles Clay anywhere on a depth chart, because you really can't place a label on him with how versatile he is. Most expect Clay to be an H-back for the Dolphins, meaning he will line up some in the back-field, on the line as a tight end, and will motion and shift all across the formation before the snap.

Polite is probably too valuable as a pure full-back and nearly unstoppable short-yardage converter to be vulnerable to getting cut. So Clay will likely take the place of a roster fringe tight end on the final 53, assuming of course that he makes the team.

Wide Receiver: (1) Brandon Marshall, (2) Davone Bess, (3) Brian Hartline, (4) Edmond Gates, (5) Roberto Wallace, (6) Marlon Moore, (7) Julius Priutt, (8) Brooks Foster, (9) Patrick Carter
The Dolphins appear to have a pretty complete unit at receiver if fourth-round pick Edmond Gates can be the stretch-the-field speedster this offense needs. Brandon Marshall is the go-to threat, Davone Bess has emerged as one of the game's most productive slots, and Brian Hartline was showing significant strides in his second season before he got hurt.

There will be plenty of competition in camp, though. Hopefully Gates will push Hartline for that number two role opposite Marshall and Roberto Wallace, Marlon Moore, Julius Priutt, Brooks Foster, and Patrick Carter will battle it out for a roster spot.

Tight End: (1) Anthony Fasano, (2) Jeron Mastrud, (3) Mickey Shuler, (4) Dedrick Epps
With Charles Clay expected to play H-back and technically be the second tight end on game day, Jeron Mastrud, Mickey Shuler, and Dedrick Epps will likely compete for the second and final tight end spot. Although, Anthony Fasano will never be an ideal pass catching tight end, he's one of the better blockers in the business and is a very solid starter for the Dolphins.

Left Tackle: (1) Jake Long, (2) James Marten
Jake Long should be back to 100% in 2011 after playing about half of last year on a bum shoulder. Long was still very solid for the most part playing hurt, but there's no debating he's one of the top lineman in the league when healthy. James Marten is a backup with some upside and versatility, but hopefully he's never called upon because of injury.

Left Guard: (1) Richie Incognito, (2) Ray Feinga
Like I said above, Richie Incognito isn't a great fit as starting left guard. He's decent enough to hold the job down, but his lack of pulling ability will surely hold the Dolphins' running game back some. He's much better suited for center in my opinion, where he can utilize his brute strength in tight spaces. If it was me, I would move Mike Pouncey back to guard, where he played two seasons for the Florida Gators, and let Incognito permanently move to center, where he has much more potential.

Center: (1) Mike Pouncey, (2) Joe Berger
Mike Pouncey is basically already guaranteed the starting center job if that's where the coaching staff keeps him. He's an athletic lineman that will be able to add a different element to the Dolphins' running game as a center that can pull, but he can't continue to be a liability on shotgun snaps.

Joe Berger proved he isn't starting material in this league last season, and the front office's decision to save cash by cutting ties with Jake Grove and starting Berger was, in my opinion, the biggest reason why the running game fell apart in 2010.

Right Guard: (1) John Jerry, (2) Nate Garner, (3) Matt Kopa
Assuming the Dolphins let Nate Garner compete at guard, where he actually has a chance to start, a very intriguing competition should unfold between Garner and John Jerry. I expect Jerry to improve in his second season, but Garner was very reliable in 2009.

Right Tackle: (1) Vernon Carey, (2) Lydon Murtha, (3) Allen Barbre
He's only 29 years old, but Vernon Carey's future is a bit uncertain in Miami. He's had a hard time staying healthy and is probably a little overpaid for the Dolphins' liking. He's still a very solid right tackle, though, and together with Jake Long, provides the Dolphins one of the better tackle duos in the league.