The Dolphins some work to do !
Week 2 of the preseason has now come and gone and the Dolphins haven't exactly got off to the most encouraging start. Whether its poor preparation or poor execution, the team hasn't been hitting on all cylinders to say the least.



There are several question marks remaining before the season starts with the most obvious being who will Joe Philbin name his starting quarterback.

With Ryan Tannehill coming out in weak 2 with an average performance, he might have actually taken a step forward as his main competition Matt Moore did nothing to step up and take a strangle hold of the QB battle. Tannehill however wasn't given a lot of time to prove what he could do as he was constantly under pressure with an O line performing very poorly.

The safe money however barring any radical changes in the competition would be that Ryan Tannehill will debut as the team's starting QB.

Major questions that came from the second game many different areas

1) Offensive Line ( rookie Jonathan Martin ) – While the offensive line struggled as a whole, the rookie Martin's struggle were on display getting beat several times including on more
than one occasion which led to sacks. The offensive line has to learn how to gel and play more as a unit. Many of Martin's issues are coachable and can be fixed. Philbin mentioned he is not disappointed in the young lineman and still has high expectations for him.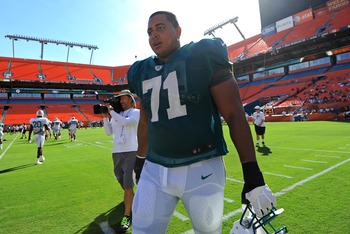 2) Absence of a number 1, 2 or even 3 receivers – One thing that might hold back the Dolphins from starting Tannehill is the fact he wouldn't be given many weapons at his disposal. No WR
has really shined with the opportunity to move up on the depth chart. We are still waiting for a breakout performance from any of the receivers. No WR has really taken advantage of the fact that Chad is no longer in the mix.

3) The secondary – The secondary didn't really make any strides after a poor performance in week 1, Davis is still struggling to impress and find himself back with the number 1 unit

4) Lack of depth on defense – With Wake, Burnett and Dansby all out, no backup player really was able to rise to the occasion and make an impact. The 1st team unit came out with a
lack of fire and intensity and it lead to a quick 17-0 Carolina lead. While the defense wasn't really a concern going into this season, the unit certainly hasn't instilled confidence into the fan base.

5) Tight End coverage still seems to be a concern, it's been 3-4 years now this defense has struggled covering tight ends and when having to face Gronk + HernDog and Dustin Keller amongst
others it could make for more fans covering the faces with their hands.

This team has a lot of work to do and I think the preparation by Philbin and his stuff needs to get better as well. Execution and intensity seem to be an issue with this team, as the
fire just doesn't seem to be there. On the bright side at least we MIGHT have found a QB.
Ouch! You may know what you are talking about from a football perspective, but I doubt many readers will take your writing very seriously with so many grammatical errors. Not to be a grammar Nazi, but your credibility definitely comes into question every time I see a run-on sentence or somewhere where a comma is needed. I mean at least edit the title of the article!