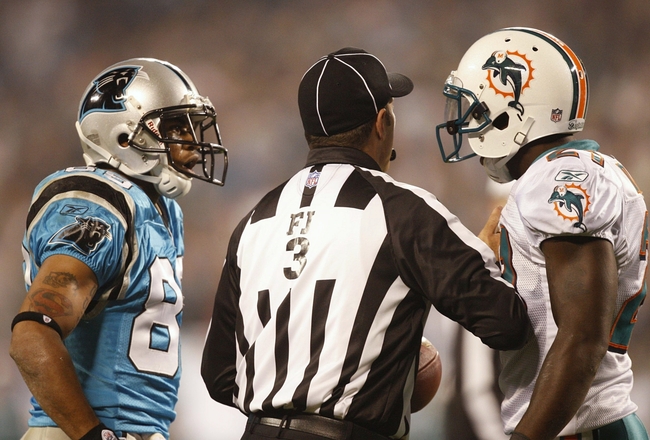 What: Dolphins vs. Panthers preseason exhibition
When: Tonight at 7:30 p.m. EST
Where: Sun Life Stadium/Miami Gardens, Florida
TV: WFOR 4 (CBS) Miami, WCCB FOX 18 Charleston, NFL Preseason Live, replay on NFL Network tomorrow at 1 p.m.

Cam Newton making his first NFL start will grab the national spotlight, but in Miami, eyes will be on Reggie Bush making his debut in aqua and orange, while Chad Henne, the offensive line, and the first-team defense attempt to bounce back from a rough outing in Atlanta last week.

Last week's struggles may have been overblown, but if the Dolphins' starters look as inept as they did a week ago, the morale surrounding the organization will only continue to plummet. Those starters are expected to play into the second quarter, maybe even the whole first half in the case of some.

Again, the slate will be whipped clean come the Monday Night opener against the Patriots and how the team looked in the preseason won't mean anything when it comes. But the Panthers were the worst team in football a year ago. Seeing positive signs is in order.

Sleep would come much easier for Dolphin fans if some of the major concerns surrounding this team are eased. Here are the top five things that need to happen to chalk up Week 2 of the preseason as a success for the Dolphins.

5 keys to success for Dolphins

1. Clean injury report: I may sound like a broken record, but that's alright. Staying healthy is hands down the most important key for every team in the exhibition season. What meets the eye tonight won't carry over to Week 1.

From a confidence standpoint it may for certain players, but once things get real, how the Dolphins played against the Panthers in the second week of the preseason will be forgotten.

However, significant injuries do carry over to the regular season. Meaningful games down the road could be impacted tonight if a starter gets seriously hurt. The probability of a key contributor getting banged up will increase with the first-team's boost in playing time. Keep those fingers crossed.

2. Chad Henne lead one or two scoring drives, protect football: Depending on how he's performing, I expect Henne to play into the second quarter if not the whole first half. Protecting the football will be priority number one, as he attempts to rebound from the two picks he threw in the first quarter against the Falcons.

But he shouldn't accomplish that by playing conservative. Mr. Checkdown might benefit from Reggie Bush's explosiveness as a receiver out of the backfield, but it would be nice to see Henne lay the groundwork for a prolific connection with Brandon Marshall this season down the field.

Leading a couple scoring drives will go a long way in restoring confidence in Henne for the fans and coaches, whether they admit it or not, alike.
no comments