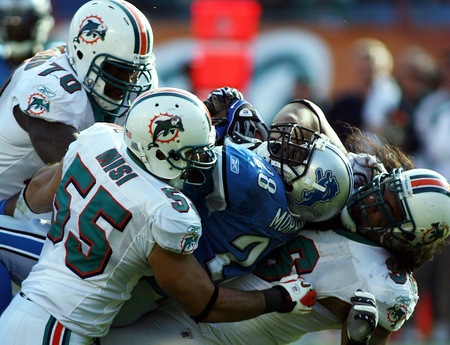 The beginning of July usually symbolizes the calendar turning to the new season as training camps begin kicking off around the last week of the month. Under normal circumstances, I would traditionally begin July with the first installment of our training camp preview, an exciting post to say the least as we are normally so close to football by now that we can taste it.

But, yes, I must remind you that circumstances are far from normal this time around. The lockout has put a serious damper on the increasing excitement we've grown accustomed to this time of year.

It's worth noting, though, that the players and owners still have plenty of time to salvage all of camp and the preseason. But to start previewing training camp would be pointless considering that the Dolphins will be signing several free agents and undrafted rookies between now and whenever they open.

It's been a difficult task lately, but we're going to keep churning along here by manufacturing topics to discuss. What better way to do that then by talking a little defense, a topic that has seemingly been thrown under the rug all offseason. The reason for that has been obvious. The Dolphins were pathetic on offense in 2010 and have been forced to make drastic changes on that side of the ball- an unfinished project, with plenty of work yet to be done in free agency.

We've all kind of just chalked up defense as something that the Dolphins will excel at in 2011 by continuing to build off of the improvement they made last season. Comparing Mike Nolan's unit to what we saw in 2009 was like night and day. I could talk all day about the strides made in the secondary, the emergence of Paul Soliai, the dominance of Cameron Wake, and the impact of Karlos Dansby, but the proof was in the numbers.
The pass defense improved from 24th to 8th, the run defense from 18th to 7th, and overall, the Dolphins jumped from 22nd to 6th. Logically, most are expecting the Dolphins to continue that trend by emerging as one of the league's elite defenses in 2011. A fair expectation in my opinion.

But sometimes it doesn't work out like it's supposed to. Time and time again, players, offenses, defenses, and entire teams fail to live up to expectations. Here are the top three things that must happen for the defense to live up to those lofty aspirations and avoid being a disappointment this season.

3. Soliai stay motivated: It was a blessing in disguise for the Dolphins' front three when Jared Odrick went down for the season with a broken leg. It was unfortunate for Miami's first-round pick but they likely wouldn't have found a dominant nose tackle if it didn't happen. The injury forced Randy Starks back to defensive end and threw Paul Soliai into the starting lineup. Soliai flourished.

By season's end, he was consistently commanding double-teams and causing havoc with penetration. In my opinion, he was the biggest factor in the Dolphins' domination against the run in the latter part of the season. But some have pointed to the fact that Soliai was in a contract year as to why he was able to keep his weight down and finally emerge as a starting material.

Well, Soliai got his cash this offseason and then some when the Dolphins designated him as their franchise player. But that is obviously only for one year. He's going to have to prove that 2010 wasn't a fluke if he wants to earn a lucrative multi-year deal in 2012. But will his success last season and the cash he was handed this offseason allow some content to slip in? The Dolphins surely hope not. Whether or not they will be a brick wall or simply average against the run hangs in the balance.
no comments