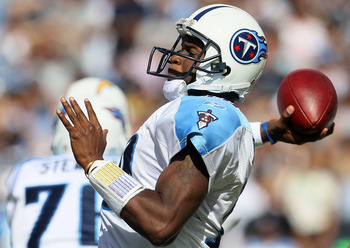 Speculation is once again brewing that Vince Young will bring his talents to South Beach shortly after the new CBA is finalized. That speculation may be nothing more than fans being fans, attempting to tie any and every big name free agent to the Dolphins.

I don't put much, if any, stock into reports claiming that "sources" say the Dolphins will likely sign someone. Anyone can claim anything to get attention and misinformation is far more common than the truth when it comes to free agency.

What I do know, however, is that the Dolphins will be adding a veteran quarterback to compete with Chad Henne. Their secretive front office has even gone as far as to admit that.

And when you take everything into account, Vince Young is by far the most realistic possibility that is capable of going toe-to-toe with Henne. Is he the best quarterback that is rumored to be available? Obviously not.

Carson Palmer is far more proven and could return to elite status with a change of scenery. And the numbers make it clear that Kyle Orton is also a better option. But we're all well aware of where Palmer and Orton's availability stands. Bengals' owner Mike Brown is far too stubborn to trade Palmer and Orton could easily still be the guy in Denver.

Even in the event that either franchise opens up to the idea, who's to say that GM Jeff Ireland is willing to give up a second-round pick or higher for the third consecutive year?

No, the Dolphins will realistically be forced to settle for a free agent. And if we're honest, there is really only one soon-to-be free agent capable of being the answer in Miami. Sure the Dolphins could kick the tires of Marc Bulger, Matt Hasselbeck, or Donovan McNabb, but even if they get a serviceable season out of one it's not going to solve anything in the long run.
no comments