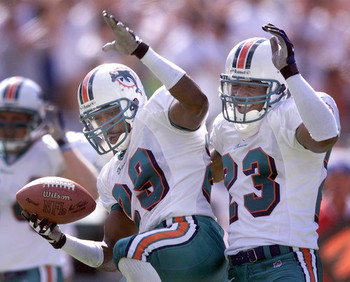 Over the weekend, our part-time contributor Joshua gave Zach Thomas the slight edge over Nick Buoniconti in the intense debate over which Dolphin great is the best middle linebacker in team history. Choosing the best cornerback in Miami Dolphins' history proved to be an equally challenging task.

From 1998-2004, Sam Madison and Patrick Surtain blanketed opposing receivers and established themselves as the league's most dominant cornerback duo and subsequently, a legendary tandem in Miami.

Choosing one over the other is like splitting hairs, but that's what makes lists like this fun. The corners we have ranked 3rd through 5th were also key cogs on some of the stingiest defenses the Dolphins have produced.

And in keep in mind we may be on the verge of witnessing a corner tandem nearly as dominant as Madison and Surtain were with Vontae Davis and Sean Smith projecting to emerge as two of the league's better lockdown corners in the near future. But both still have plenty to prove. The future can wait. Now, it's time to honor the past.

5. Curtis Johnson (1970-1978): Before Madison and Surtain, the best corner tandem in team history was Curtis Johnson and Tim Foley. Just like their successors, Johnson and Foley are nearly impossible to differentiate in rankings. They were the starting cornerback duo on the Dolphins' only two Super Bowl champion teams. Ironically, they were so identical that they both finished their careers with 22 interceptions, which ranks 6th in franchise history. But we are talking about corners here, and Tim Foley had his best statistical seasons at safety, where he was moved in 1977. Curtis Johnson was arguably the more talented corner. Johnson only missed three games in his nine-year career in Miami, where he, along with his 22 picks, racked up 190 yards on returns and recovered 8 fumbles.
no comments