After selecting Ryan Mallet with the 15th overall pick in the Bloguin mock draft, my mind couldn't help but wonder to the later rounds of the draft and the other needs that the Dolphins desperately need to address. With that in mind, I decided to put together a seven-round Dolphins' mock that attempts to fill all of their voids.

It's composed with a bit of an optimistic mindset, as my dream scenario is played out with the Dolphins trading down in the first round, acquiring a second-round pick, and still getting a potential franchise quarterback in Ryan Mallett. But nonetheless, I think it puts us in the ballpark as far as the caliber of prospects that could be available in each round and does a fairly adequate job of potentially filling all of the Dolphins' holes.

Round 1, Pick 15: Dolphins trade 15th overall selection to team within picks 25-32 for their 1st and 2nd round draft choices.

Round 1, Pick 25-32: Ryan Mallett, QB, Arkansas- I'm sticking with Mallett in the first round for the time being. Still believe he's the best pure passer in this year's class and could be the Aaron Rodgers of this year's draft despite concerns about his mobility and character.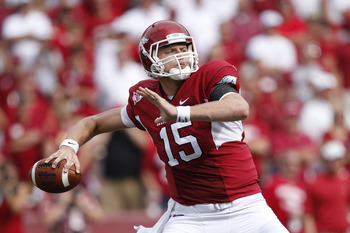 Round 2, Pick 25-32: Clint Boling, OG, Georgia- I think the Dolphins address the interior offensive line before they look to bring in a running back. Boling plays with the type of nasty streak Tony Sparano loves, and could start from day one for the Dolphins.

no comments