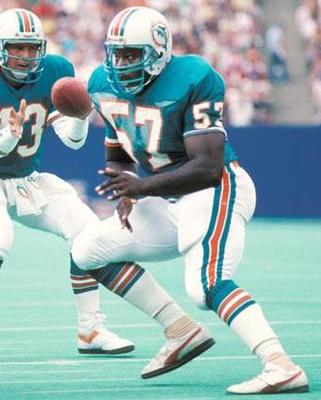 It may have been difficult getting out of bed this morning for many of you Miami sports fans with the Heat's collapse in the NBA finals still fresh in your minds.

But there's no better cure for those wounds than getting back to some Miami Dolphins' football, something that may be right around the corner as speculation is beginning to brew that negotiations between the owners and players are heating up and a resolution could be a mere couple weeks away.

The Dolphins, after all, are South Florida's true love. Their mediocre run these past couple years and the media's obsession with the Heat haven't changed that.

Being number one in Miami wouldn't be possible without some of the all-time franchise greats we have been honoring recently. Today, we've arguably saved one of the best positions on the entire roster talent wise for last offensively.

No, centers typically don't get the credit they probably deserve and some of our younger readers may not even recognize the following names, but both centers on our depth chart are widely considered to be top ten players in franchise history.

1. Dwight Stephenson (1980-1987): Few will argue that Dwight Stephenson was the greatest center to ever play the game. For all the greats that have played for Miami, Stephenson is probably the only one who is legitimately regarded as the greatest ever at his respected position. You could possibly even make a convincing argument for Stephenson being the greatest Dolphin not named Marino.

The 1998 Hall of Fame inductee was selected to five Pro Bowls, five All-Pro first teams, was named to the 1980's All-Decade team, and was honored with the 1985 Walter Payton Man of the Year. There wasn't a defensive tackle in the league Stephenson couldn't handle.

In probably the greatest example of how special of a player he was, Stephenson played a huge role in containing the '85 Bears' 46 defense, which schemed by attacking the interior of the offensive line, in the Dolphins' classic 1985 victory over the Bears on Monday Night Football.

To make a long story short, Dwight Stephenson was truly a special player and the Dolphins were beyond blessed to have him in aqua and orange.


no comments