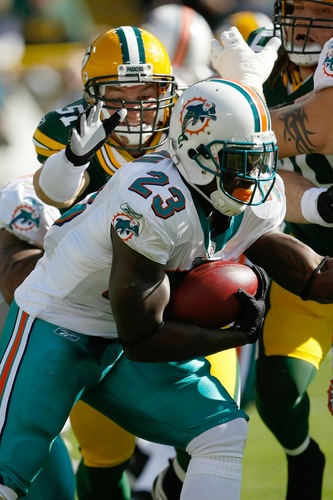 I know I'm showing up a little late to the party here, as Ronnie Brown opened up about his willingness to return to Miami on Sunday to the Miami Herald, but I wanted to give our new blogger Daniel Eliesen center stage yesterday with his first post for Phins Phocus. And by all means, if you haven't read his Top 25 active player rankings yet, be sure to give it a look.

As for the state of the Dolphins' running back position, we've speculated all offseason about guys like DeAngelo Williams and Darren Sproles. But what do the Dolphins do if they can't reel in a high-profile back like DeAngelo Williams in free agency or become unwilling to get into a bidding war for his services? Should this front office entertain the possibility of resigning Ronnie or is it just time for this franchise to move on from its 2nd overall pick in 2005?

Brown has been spectacular in spurts. Despite 2007 being the worst season in Miami Dolphins history, you could have made the case that Ronnie was the best back in football that year before he went down with a torn ACL in Week 7, as he was leading the entire league in yards from scrimmage at the time of the injury. And of course, being the catalyst for the formation that took the league by storm the following year will ensure he will likely always be looked at under a positive light in Miami despite being somewhat of a disappointment in reality considering he was taken 2nd overall.

Yes, you probably have to consider Ronnie's career with the Dolphins, if it is indeed over, a disappointment. It's not what Ronnie has done on the field that falls short of what expectations should be for someone who is drafted that high, it's that he's had four seasons cut short by injury. He was, however, able to play a full 16 game season in 2010, which was the second time he's accomplished that feat in six years.

But forget all of that. Let's not worry about what Ronnie has or hasn't done in the past. Is he a good fit for this football team today?


no comments