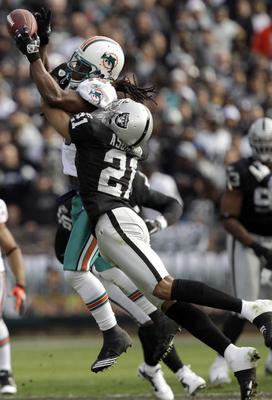 The following argument has nothing to do with soon to be former Raiders' star cornerback Nnamdi Asomugha as a player. As a player, Asomugha is, in my opinion, the best cornerback in the entire league. And yes, that includes Darrelle Revis.

No, Asomugha doesn't have the reputation Revis has, but simply put, that's only because the Raiders have been the laughing stock of the league for years and Revis' Jets are the media's darling. Also, Asomugha may get overlooked at times because of his lack of interceptions. It's hard to get picks, though, when quarterbacks won't even throw the ball his way.

I'm not aware of the number of times Asomugha and Revis were targeted in 2010 because Pro Football Focus is now a website that requires a paid membership, but in 2009, they revealed that Revis was targeted 111 times while opposing quarterbacks only tested Asomugha on 28 occasions. Not to sell Revis short by any means, he's an elite corner that drastically makes the Jets a better defense and football team, but Asomugha has been just as dominate, if not more so. With that said, however, I don't believe that the Dolphins should be in his sweepstakes when he eventually hits free agency, as NFL.com's Micheal Lombardi suggested yesterday afternoon.

Most fans are well aware that the Dolphins have themselves a young corner in Vontae Davis that may be on the verge of rising to elite status himself, meaning a lockdown corner is far from one of this football team's needs in a offseason where several pressing voids must be addressed. Still though, many don't expect owner Stephen Ross to be shy with his money this offseason, and the ideal of having an elite corner on each side of the field would be frightening for opposing quarterbacks. But that's where Sean Smith comes into play.