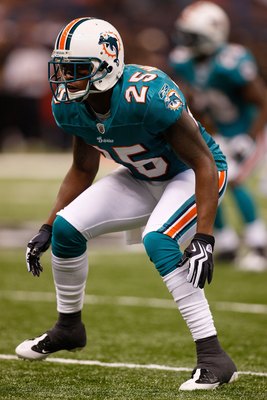 By the time the fourth preseason game rolls around, most fans are ready for real football. The starters are all but done with their dress rehearsal reps and it's simply time to let the roster fringe players make one final impression.

That may explain why tomorrow night's game didn't sell out before the 72-hour deadline and will consequently be blacked out in South Florida.

The interest in the preseason finale may not be there with the majority of the fan base, but it's going to be far from a boring and meaningless game in the minds of several players on the roster bubble fighting for their NFL lives.

Here are five players that need to impress tomorrow night, as their 53-man roster hopes are very much in limbo:

Will Allen, CB: The 11th year veteran finally got on the field Saturday and looked pretty good doing it. Allen was sharp in coverage, minus an illegal contact penalty, and had a sack that would have resulted in a safety if the play hadn't been negated by penalty.

Benny Sapp seems like a lock as the nickel, but Nolan Carroll's struggles this preseason has opened the door for Allen to land the fifth cornerback spot. Keeping Carroll around would save the Dolphins some cash and he has an upside advantage at only 24 years old.

But with young corners like Vontae Davis, Sean Smith, and Jimmy Wilson in the secondary, the Dolphins would benefit from a knowledgeable mentor in the mix. But he'll still need to prove he has something left in the tank and that his knee is 100% and ready to go. Another solid showing should do the trick.

Larry Johnson, RB: I have a hard time seeing the Dolphins keep only three running backs. With the uncertainty of rookie Daniel Thomas and Reggie Bush's injury history, Miami needs a capable workhorse as insurance.

Nic Grigsby is also on the roster, but as an undrafted rookie who's yet to impress this exhibition season, he's likely auditioning for practice squad consideration at this point. Larry Johnson is essentially competing against the names that will hit the waiver wire when 31 other teams make final cuts on Saturday.
no comments