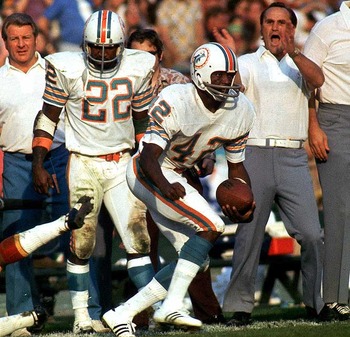 I took a brief little hiatus from the blog as I went out of town for Memorial Day weekend, but fear not, we are back in business and ready to continue our break down of the All-Time Miami Dolphins. With absolutely nothing going on Dolphins-related or NFL-related for that matter, hopefully our all-time roster series has become your Dolphins' fix as we continue our descent into the offseason doldrums.

We can only hope that Friday's hearing will get the ball rolling in ending this lockout, but with so much uncertainty in the present, we will continue to take a look back at the proud tradition of this franchise by unveiling the top five wide receivers to ever play for the Dolphins.

Before I break down the depth chart, keep in mind that what these players accomplished in Miami is one of the biggest factors in the selecting process. For example, Wes Welker, Chris Carter, and Brandon Marshall may be three of the most talented wide outs to franchise history, but Welker has enjoyed the bulk of his success for the rival Patriots, Chris Carter played five games here on the tail-end of his career, and Marshall, who could be the best when it's all said and done, is probably still a productive season away from being considered.

Here are my top five receivers in franchise history, factoring in talent, production, and what era they played in.

1. Paul Warfield (1970-1974): Warfield may have only spent five seasons in Miami, as opposed to eight with the Cleveland Browns, but he was a big part in this franchise's greatest run that included three consecutive Super Bowl appearances, two Super Bowl titles, and the renowned 1972 undefeated campaign. Looking at stats alone wouldn't do Warfield justice. Playing for some of the most dominate power running offenses in NFL history, with the Jim Brown led attack in Cleveland and the three-head monster of Csonka, Kiick, and Morris in Miami, in an era where teams only threw to keep the defense off-balanced and in desperate times anyway, Warfield didn't get anywhere near the same amount of opportunities today's receivers get. But he sure made the most of every opportunity he got.

He totaled 427 receptions, 8,565 yards, 85 touchdowns, six All-NFL selections, and eight Pro Bowls in his Hall of Fame career. He also possesses one of the highest yards-per-catch figures in NFL history with 20.1 yards-per-reception. But looking beyond the numbers, Warfield played a crucial role in opening up the Dolphins' power running offense. Defenses new the Dolphins were going to line up and run the ball right down their throats, but they also were forced to respect Warfield's speed on the outside. It's impossible to judge to what extent, but you could argue that Csonka, Kiick, and Morris wouldn't have been as dominate without Warfield commanding so much attention as a big-play receiver. If true, Warfield's value to this franchise goes well beyond what the numbers say.
no comments