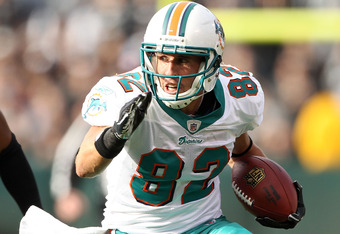 As we continue to wait for the lockout to be lifted so free agency can open and trades be permissible, let's take a look at the current state of the Dolphins' roster.
As opposed to the defensive side of the ball, which is virtually game day ready personnel wise outside of a few depth concerns (particularly at OLB), the offense is far from settled.

The outlook offensively is better now than it was before the draft, but the Dolphins are still a veteran quarterback, a starting caliber running back, and an athletic, pulling guard away from filling all their needs before training camp.

Of those three remaining voids, quarterback and running back will undoubtedly be addressed via trade or in free agency. It's still uncertain if the front office feels comfortable enough about the interior offensive line to move forward.

Personally, I think they should add a proven veteran guard if they intend on starting Mike Pouncey off at center because there will be question marks at both guard spots without one. Richie Incognito hasn't given us a reason to believe he'll be anything more than average at guard, John Jerry struggled as a rookie, and Nate Garner may only be valuable as a versatile fill-in.

We will have to wait for free agency to see how confident the front office is in their current interior O-line. For now, though, let's see what the Dolphins' offense would look like if they had to take the field today.

Quarterback: (1) Chad Henne, (2) Tyler Thigpen, (3) Tom Brandstater
The Dolphins tendered Tyler Thigpen this offseason, but it likely won't matter once the lockout is lifted because there isn't expected to be any restricted free agents. Thigpen would surely be welcomed back, as an athletic backup who could challenge a struggling Chad Henne for the starting job. But Thigpen will likely sign elsewhere, because the quarterback competition figures to be a two-man race once the Dolphins add a veteran. And like I've said before, it's not a matter of if they will add a veteran, it's a matter of who that veteran will be.

We won't speculate on who that veteran will be right now, but just rest assured that the quarterback depth chart will include a new name by the time camp opens. The Dolphins won't start the season with only two QB's. Chad Henne needs to have competition and Tom Brandstater may be nothing more than practice squad quality.

Running Back: (1) Daniel Thomas, (2) Lex Hilliard, (3) Kory Sheets
The Dolphins must add another starting caliber running back in free agency. In today's NFL, you can't get by with a primary-back system anymore. Just about every offense is running a two-back system. And neither Lex Hilliard nor Kory Sheets figure to have what it takes to share the workload with Daniel Thomas.

If one were to step up into that role, though, it would likely be Kory Sheets. I'm not dismissing Lex Hilliard or even predicting Sheets would beat him out in camp for a roster spot, but if one were to co-start with Thomas, it would be Sheets because his speed would make him a nice change-of-pace complement.
no comments