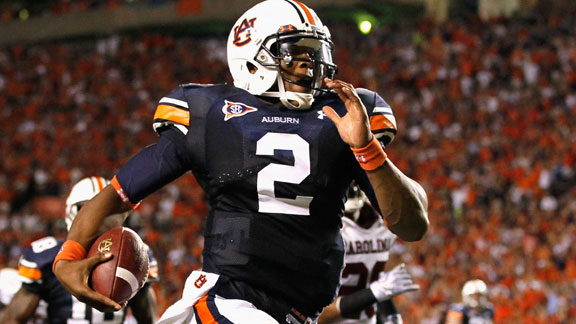 Considering rumors have been circulating for about a week now that the Dolphins have a strong interest in Cam Newton, it is a fitting time to evaluate Newton as an option to fill this franchise's long pressing quarterback void. While I take every rumor I hear with a grain of salt or two this time of year and really all the way up until the draft, the fact of the matter is, Newton may be the most realistic option for the Dolphins if they plan on staying put at pick #15 in order to invest a mid-first rounder in a quarterback.

I fully expect Jeff Ireland to pursue every avenue possible to recover the second round pick the Dolphins lost in the Brandon Marshall trade a year ago, but if he is really sold on Newton, or becomes so sometime in the draft scouting process, it would be worth staying put in the middle of the first round if Newton falls that far, or if he doesn't, contemplate trading up into the top ten.

Being already void of a second round pick, trading up would further prevent the Dolphins from filling all their holes in the draft. But if Newton shines as bright as most scouts think he will in shorts in the next couple months, no matter how irrelevant that may be, trading up may be the only way the Dolphins can snag the reigning Heisman trophy winner.

Pros: Obviously, when you begin to list Cam Newton's strengths, there's no better place to start than his superb athleticism. Don't compare him to Micheal Vick; he's not that fast. But don't compare him to the biggest bust this regime has brought in so far, Pat White, either, because at 6'6, 250 pounds, Newton has the size to successfully translate his running game over to the pro level.

Of course, he won't be as dominate, defenders are just too big and too fast in the NFL and he will never run the type of spread offense he did at Auburn either. But at the very least, Newton is going to be able to keep plays alive on a regular basis and be the type of improviser in the pocket that Ben Roethlisberger is for the Steelers. If the Dolphins don't plan on doing away with their wildcat package with new offensive coordinator Brian Daboll, Newton, unlike Pat White, has the size to run the ball between the tackles, which is the formation's bread and butter.

As far as a passer, Newton has very solid arm strength. He struggles at times with deep ball accuracy, but he has the ability to make every throw in football. Besides deep ball accuracy, he was usually pretty consistent at hitting his receivers in the short to intermediate passing game and showcased an ability to put touch on his passes when need be. If the Dolphins want to draft someone who isn't in the same mold as Chad Henne from a leadership standpoint, Newton may be their guy. He's the type of rah-rah leader that can lead a pregame chant to rally the troops, and would likely be able to establish a good communication level with his coaches and receivers.
no comments