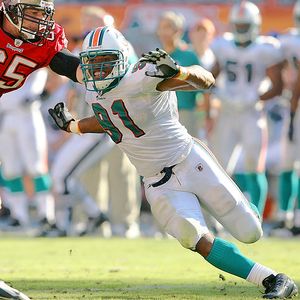 The question marks surrounding the Dolphins' defense make it difficult to predict just how improved, or not, the unit will be under Mike Nolan. Those uncertainties are not void of hope, however. Outside linebacker is no different. The upside of this group is promising, but just the fact that their will be an unproven starter on both the strong and weak side, is enough to induce some stress for those depending on Nolan to transform one of the lower ranked defenses in football, to one of the better ones, in the same fashion he did in Denver.
The pass rush has to come from somewhere, after all. Vontae Davis and Sean Smith are expected to make strides in year two, but they can't cover all day. No, they will be in dire need for pressure on the quarterback, not only to improve a bottom-feeder pass defense, but to start becoming the ball-hawking tandem they are capable of becoming.
One of the biggest factors to Nolan's transformation in Denver was the emergence of Elvis Dumervil. The undersized outside linebacker accounted for a league-leading 17.0 sacks last season, a year after only notching 5.0. Give some props to Dumervil for becoming an elite pass rusher, but also give some credit where credit is due. Mike Nolan's aggressive scheme got the most out of him, and for the Dolphins to have similar success, they could sure use an elite pass rusher to develop overnight.
The most likely candidate is none other than Cameron Wake. The "Earth Wake" dazzled fans with flashes of dominance on pass rush situations, but needs to fine tune the other elements of his game to earn an every down role in training camp. Opposite Wake, Miami will likely be trusting rookie Koa Misi to start on the strong side.
If we indeed do get a Misi-Wake starting duo, the potential is not lacking, but experience won't be the unit's strength. The Dolphins need both to live up their expectations. If not, fans will be left asking why the front office let Jason Taylor walk to the team's most hated rival.
Safe
Koa Misi: Misi was thrown into the fire for most of the offseason, getting reps with the first team right away. He doesn't have the pass rushing ceiling that Wake does, but he projects to cover and stop the run more effectively. There were contradicting reports this spring about how well he performed with the starting defense in OTA's, but none of that really matters now.
Even though he's expected to start, he still needs to bring it from day one in camp. A lackluster camp, and Charlie Anderson could easily steal his spot if he doesn't take care of Wake on the other side.
Cameron Wake: Potential is one thing. Actually living up to the expectations that come with it, is another. In reality, we haven't seen enough of Wake to know if he can be a Pro Bowl caliber pass rusher, or not. He showed signs in 09', but who knows if he can even maintain that pass rushing pace with every down reps.
People around the media are starting to throw his name out there as someone who could break out this season, and that is all well and good, but he needs to win a starting job before we can even begin to go that far. Because, honestly, if the Dolphins had to play the Bills today, Charlie Anderson would get the nod. Anderson got the first-team reps for all but a couple practice sessions that were open to the media. That likely says more about Wake's stagnant progress in coverage and run defense than Anderson's ability to be a quality starter.
The Dolphins probably need to see significant improvement from Wake in those aspects, to trust him on first and second down. And you could argue, Mike Nolan needs those improvements to become a reality if he has a chance at turning around this defense in one season, like he did in Denver.
Charlie Anderson: I would love to be wrong about Anderson, but from what I've seen, he isn't a quality starter, only a solid backup. He had one productive game last season, when he notched two sacks against the Buc's in relief duty for the disgruntled Joey Porter, but it's going to take a whole lot more than one game to prove he has what it takes to be the guy.
If he does win the job, however, I will be convinced it's because Cameron Wake has no clue how to do anything but pass rush. If that happens, how in the world can you justify letting Jason Taylor go?