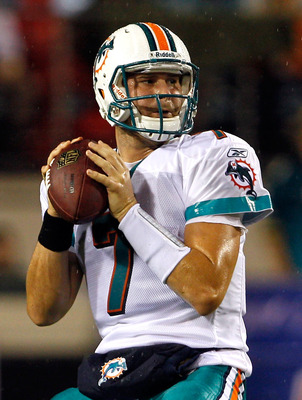 Dolphins' general manager Jeff Ireland was back at it again yesterday at the Senior Bowl. In the same manner he praised Gibril Wilson and endorsed the pedestrian receiving core last offseason, Ireland had nothing but good things to say about Chad Henne and talked like he's still not willing give up on him as the future of the franchise.

"He's shown some aggressive tendencies, he's shown some exciting throws," Ireland said. "He's got all the ability in the world. We've just got to put a plan together and an offensive philosophy that fits Chad Henne, and I think we'll do that." He did, however, make it known that the Dolphins would "evaluate what's out there like we do every position in free agency and the draft."

Reading too heavily into Ireland's comments would be foolish considering that this regime tends to say one thing and do another and that teams generally like to throw smokescreens out there in the early stages of the offseason. It's not like Ireland would tip his hand if he had a plan in place to acquire another quarterback either via a trade, free agency, or the draft. Having said that, though, we can ponder whether or not there is still any hope for Chad Henne as a starter in this league.

Even if the Dolphins are intent on finding a new potential franchise quarterback, there's no guarantee that Chad Henne won't, at the very least, retain his starting job to begin the season. If they choose to address the situation in the draft, rookies usually need at least one season of developmental time. There are obviously the exceptions like Sam Bradford, but there isn't a quarterback in this year's draft that appears half as NFL ready as Bradford was. If the Dolphins choose to bring in a veteran, there isn't one attainable quarterback in this league that Chad Henne can't at least compete with.

So while I agree with many fans that it's time for the Dolphins to stop investing in Chad Henne like a franchise quarterback and that it's time for Jeff Ireland to scour the land for the next potential long term solution, it's likely more than a probability that the Dolphins won't find a reliable quarterback this offseason and Chad Henne will take that first snap in early September. That may not be what the majority of fans want to hear, but sometimes the truth is discouraging. But if it indeed plays out that way, will all hope be lost for the 2011 season?

Personally, I find it hard to believe that the light bulb will ever turn on in Henne's head if it hasn't already. But if somehow season three as the starter is the year the game finally slows down for Henne and he lives up to the potential that comes with having a rocket for an arm, he wouldn't be in uncharted waters. Most elite quarterbacks in this league, or even solid starters for that matter, reveal the type of player they're going to be by their second season under center. Looking at the curious case of Drew Brees' rocky start in San Diego, though, we see some striking similarities with Henne's first three seasons in Miami.