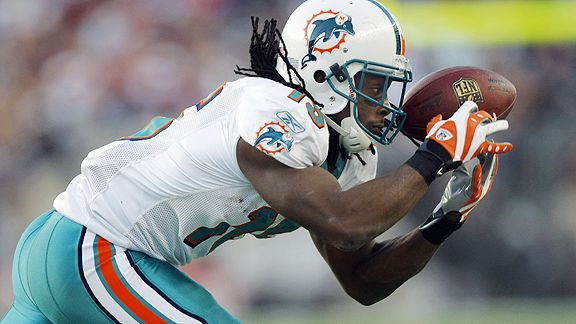 Now on to the feel good position heading into camp. Dolphin fans are still riding high after the trade that brought Brandon Marshall to Miami, a talent arguably superior to anything the Dolphins have had at the position since Paul Warfield.
Marshall brings his 6'4, 230 pound frame that is responsible for three straight 100+ catch seasons to an offense that was desperate for a true go-to threat, that would not only open up the unit, but provide Chad Henne the necessary resources to develop into a franchise quarterback.
Beyond Marshall, though, there is some uncertainty with the rest of the core, but some promising potential accompanying it. The battle for the No. 2 spot opposite Marshall will be an intriguing storyline to watch unfold this camp, and watching Davone Bess emerge as an elite slot receiver, or not, should be interesting to see as the season progresses.
Safe
Brandon Marshall: Even though Marshall is undoubtedly a top five talent at receiver, many expect his production to slip off considerably in Miami's run-first attack that is led by an unproven quarterback. Many fantasy rankings don't even have him in the top ten, and some statistical projections have Marshall under 100 catches and 1,000 yards for the first time since his rookie season.
But many expected his numbers to drop off last year too, when Jay Cutler was traded to Chicago and Kyle Orton took over for Denver. As we all know, though, Marshall maintained his gaudy numbers and even put up a career high with 10 touchdowns. So will Marshall be the same Pro Bowl receiver in Miami? Of course, we will have to wait and see.
Who knows if Miami even needs that kind of production to be successful as an offense. With the way they run the ball and control the clock, maybe Marshall racking up reception after reception in the short to intermediate passing game will suffice. Whatever the case, it's clear the Dolphins not having enough talent at receiver is no longer an excuse for this offense or it's quarterback.
Davone Bess: Is there any player on the offense outside of Chad Henne that benefits more from Marshall coming to town? Well, you could argue Ronnie or Ricky, but the reality is Bess could emerge as an outstanding slot receiver, and combine with Marshall for a lethal duo that rivals that of the Patriots' Moss-Welker combination.
Obviously, no one is expecting similar numbers, as the Patriots still have Tom Brady, after all, and Belichick's system is a pass happy attack, but Marshall and Bess could produce offensive fireworks if Chad Henne is who we hope he is.
Everyone expects Bess to contribute from the slot, but could he have more of a chance in the battle for the No. 2 receiver than we give him credit for? He was seen working on the outside some during OTA's, and New England uses Welker on the outside when they line up in two receiver sets, so could Bess crack the starting lineup?
Greg Camarillo: Camarillo has been ol' reliable over the past three years. His sure hands, which didn't allow a drop last season, give him a strong case to win a starting job. Talent-wise, though, he's arguably already hit his ceiling, while his competition, Brian Hartline, has plenty of room to grow. Regardless, of whether Camarillo is able to beat Hartline, he will likely at least contribute in a rotational role.
Brian Hartline: Hartline may be in some legal trouble after allegedly abandoning his vehicle after hitting a parked Escalade, but his upside has many predicting him to win the No. 2 receiver job. In only two starts last year, Hartline had 31 receptions, 506 yards, and led all receivers with 3 touchdowns.
His superior speed to Camarillo and Bess also flashed some big-play potential. But how big of strides will he have to make in year two to unseat Camarillo? The same goes for Hartline that goes for Camarillo, though. Both will be given opportunities to contribute, either with a starting role, or in the rotation.